Where many of my nights go
I am seriously addicted to Sid Meier's Civilization. Rich and I spend evening after evening playing Civ 4: Beyond The Sword. It is my non-internet crack. To describe it in a nutshell, it is kind of like playing the boardgame Risk…except on the computer with awesome graphics. And shitty, shitty war! Not that the gameplay of war is shitty…I just really hate it. I have been known to cry if someone raids me unexpectedly. Oh God, did I just admit that?
Here are some photos of our most recent game.
I am playing as China, my name is Qin Shan Huang haha. (When I'm France, I go by Marie Shantoinette…I'm lame)
Here is my capital city, Beijing, and one of my other cities, Guangzhou. Beijing is the second best city in the game, according to the stats. It has the Hanging Gardens, the Pharo Lighthouse, Sistene Chapel, and Mausoleum of Maussollos as "wonders." My workers are the dudes in the overalls, they're currently upgrading my roads to railways, which makes your people travel faster from city to city, which helps with transferring military back and forth in case of war.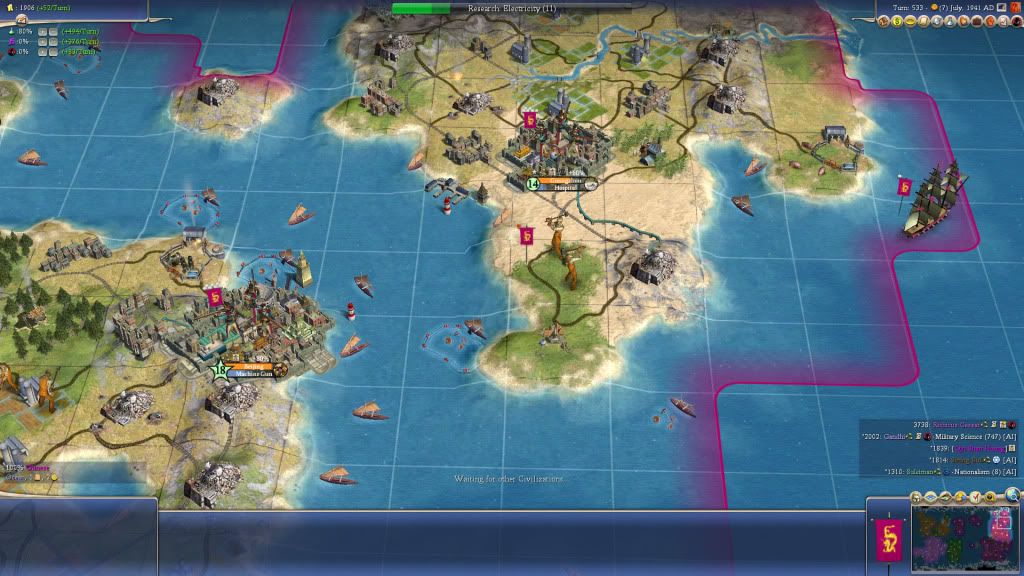 Richard, playing as the Romans, is WAY WAY far ahead in the game, being about 2000 points ahead of me. He got this score by nuking the crap out of the Native American empire, and going to war with the Ottoman empire as well. Rome is the best city in the game, and it has Stonehenge, the Statue of Liberty, Colossus, the Pyramids, the Great Library, the Oracle, the Parthenon, Hollywood sign, the Pentagon and the Great Wall (he beat me to it) as his wonders. A wee bit excessive?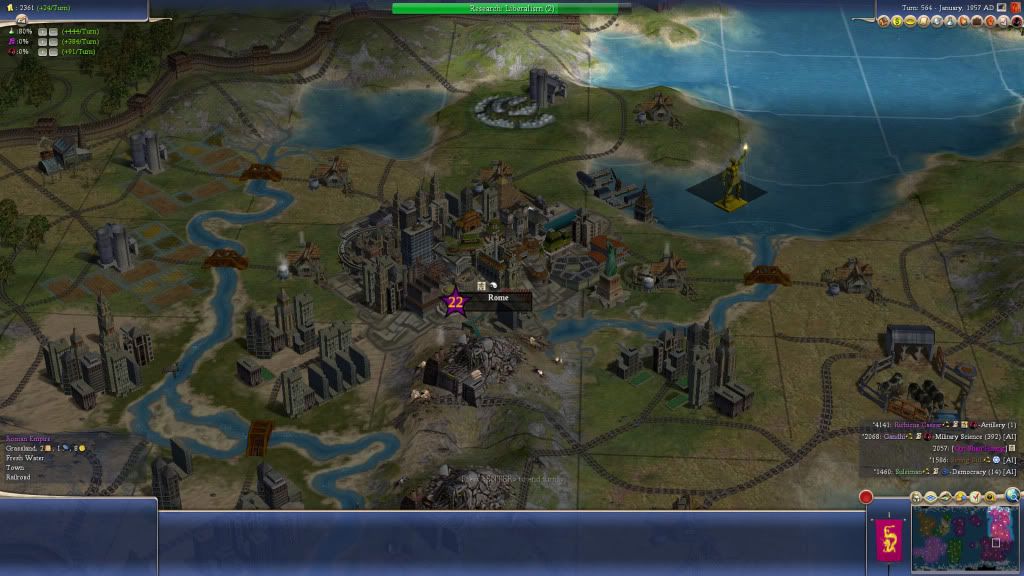 But then again, Richard is all about excess, as his naval fleet demonstrates.
Here are the Diplomatic screens, where I can talk to the others in the game, Sitting Bull (who is scowling because I won't stop trading with nuke-happy Richard), Suleiman who is "Pleased" with me, but won't stop trading with others because he "just doesn't like me enough," and FRIGGIN ADORABLE Gandhi, who likes Richard, mostly because Richard hasn't taken him to war yet.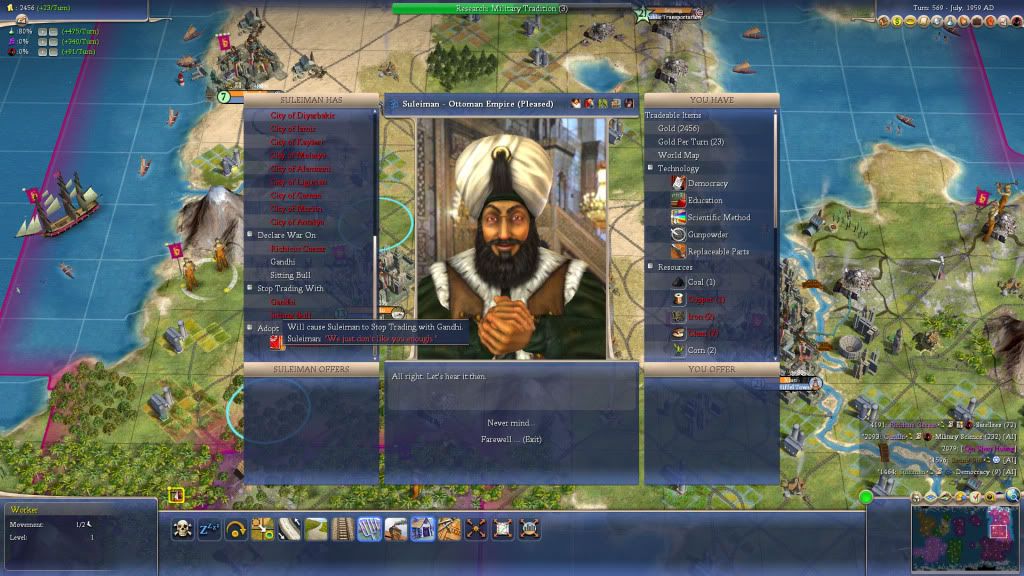 Richard is obviously going to win, since as you can see, I'm just studying for Military Tradition, and Richard has already invented the Internet, Nukes and is on to researching Satellites. Poor Suleiman is only just getting Democracy. I've considered making him my vassal, but then Richard would detonate some ICBMs on me.
OK….so I am seriously a nerd. But this is one of my favorite computer games! Mostly because I don't ENTIRELY suck at it.